Navien Tankless Water Heaters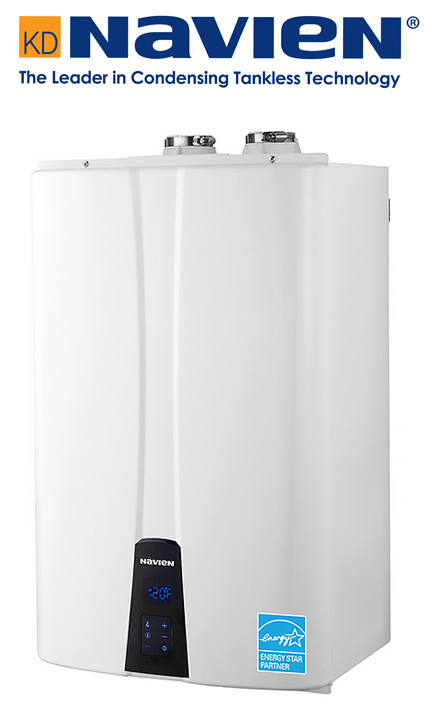 How Does It Work?
Navien's Condensing Tankless Water Heaters can provide an endless supply of hot water on demand because our units activate the second you open the hot water tap. Each time you turn on the faucet, shower, or other water outlet, Navien's Condensing Tankless Water Heater will immediately detect the flow and begin delivering the desired hot water.
Unlike the conventional storage tank water heaters that will eventually run out of hot water, Navien's Condensing Tankless Water Heaters can deliver an endless supply because they only produce hot water when you need it which limits energy and water waste. With a Navien Tankless Water Heater, you will never have to worry about running out of hot water no matter how much you use at a single time.
Energy Efficiency = Savings
Navien prides themselves on manufacturing the most cost-efficient water heaters available. It's built-in hot water recirculation system recirculates hot water that would otherwise be lost, thus, creating a method that lowers the cost of our customer's water bills each month.
Navien's state-of-the-art technology means their product has a longer life span and lower operating costs than other water heaters, compounding customer savings. This, coupled with Navien's space-saving wall-mount design, which frees up your home's real estate space, only increases the money customers will save. And, Navien's 15-year warranty is the best in the industry—think of it as an added bonus!
Why Navien?
Why choose a Navien Condensing Tankless Water Heater? In a word: Efficiency. You see, Navien utilizes "condensing technology," giving our Water Heaters up to 0.99 Energy Factor. Knocking the competition out of the water, these extremely efficient and eco-friendly units will provide extra savings for you and your family. It's the Ultimate in Energy Efficiency with Precision Technology.