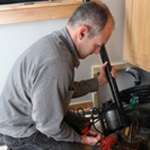 Wabash Plumbing, Inc. can handle all your sewer and drain cleaning needs. We are there when you need us, ready to diagnose your drain problems and solve them. Our technicians are trained and experienced in using the latest technology to provide a level of service unmatched in the industry.
Our sewer repair service includes:
Live video cameras for locating sewer problems
Sewer cleaning to address sewer line problems with minimal impact to your landscape
Drain Cleaning Service Agreements:
Let Wabash Plumbing help you take care of reoccurring drain line issues before they become a problem. When drain lines frequently back up, you have a couple of options. The first is to replace or repair the trouble area in your drain line; however, due to several reasons including cost or accessibility, a repair/replace option may not work for you.

The second option is a drain cleaning service agreement. Wabash Plumbing can help by tracking when your drain issue occurs and the provide custom tailored service agreements. This helps us keep your drain line running without you having to pay for extra service visits you don't need.

Whether it's once a month or once a year, call Wabash Plumbing and let us take care of your drain problems.